Your Dover Home Buying Guide
About Dover
Set along the bank of the Charles River is Dover, a small town of just over 6,200 residents. Situated a little southwest of Boston, the existence of Dover was first noted back in 1640, and eventually incorporated as a town much later in 1836.
Even though it is a small place – only a bit more than 5 square miles – Dover prides itself on being an ethnically diverse place. Residents include people of backgrounds such as German, Russian, Chinese, and as expected, English.
Home Values and Taxes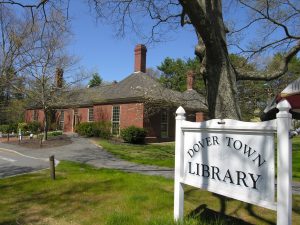 Due to its many advantages, Dover home buying is a great choice for variety of people, especially families. It has good schools, low crime, and a solid community. If you want nightlife, you'll probably have to hop the train for a quick jaunt over to Boston.
Keep in mind that Dover home buying is on the pricier side. According to Zillow, the median home value for a single family home is over $1,150,000! And prices are expected to rise about 5% through to April 30 2020.
When budgeting for Dover home buying, make sure you include the property tax. For 2019, the rate is $12.93, but has been both raised and lowered over the past several years.
School Ratings
When Dover home buying also involves education considerations, look no further. Repeatedly, Dover's public schools have been ranked among the best in the state.
Dover has one elementary school (and Pine Hill Elementary school in the Dover-Sherborn district), one middle school, and one high school. The high school in particular has consistently successful results in terms of placement scores, graduation rates, and college admissions.
Dover also has a private school for pre-kindergarten until Grade 8.
The Great Outdoors
If you love the great outdoors, then Dover home buying is for you. In particular, Noanet Woodlands is a mecca for any recreational enthusiasts. Hike or take your dog – leashed – along trails that happily meander through woodlands, along ponds, and over bridges. Trek up to Noanet Peak to catch a wonderful view of Boston.
You can go off-road cycling either at Noanet Woodlands or at Hale Reservation.
Enjoy some boating and fishing from access points along Riverside Drive.
Commuting
With the good comes the not-quite-so-good. Despite all of its advantages, Dover home buying comes with Dover commuting – and that tends to be on the longer side. In fact, the average work commuting time in Dover, one way, is close to 35 minutes.
On the flip side, MBTA public transportation is widely used, especially if working in downtown Boston. Even better, about 10% of the workforce living in Dover leave their cars behind and instead telecommute, which is quite a large percentage when compared to the rest of the United States.
Safety
Dover's small size reflects its rate of crime – which is also small. Even though the rate of crime has risen, Dover is still 95% safer than other cities across the United States. What little crime it gets tends to be property-related, so be sure to lock your door and cars to minimize any potential issues.
Anything Else?
You'd be surprised what Dover is known for, both interesting and quirky. For example, the plastic surgeon who led the medical for the first complete face transplant in the US resides in Dover.  Also two Olympic-winning equestrians – Dorothy Morkis and Karen Stives – both hail from Dover.
If trivia is more your style, then note this: up until the later 1960s, ¾ of Dover's town budget was for snow removal!
Finally, this town is home to the Dover Demon, a mysterious humanoid creature that was sighted over two days in April 1977.