Your Foxborough Home Buying Guide
The Basics
Located about 22 miles southwest of Boston is the town of Foxborough. Settled in 1704, it was named for Charles James Fox, a strong supporter for the colonies leading up to the American Revolution. As of 2010, Foxborough has a population of just under 17,000 residents and a total area of just under 21 square miles.
While Foxborough is the official spelling of the town's name, the United States Postal Service will process letters addressed to the town of Foxboro.
Home Values and Taxes
When it comes to Foxborough home buying, you could be in for a bit of a deal, when compared to Boston. According to web site Zillow, the median listing price for April 2019 was $505,000. It is predicted that house prices will increase by a small amount – a little under 2% – over the next year.
The residential property tax rate is currently set at $14.70.
School Ratings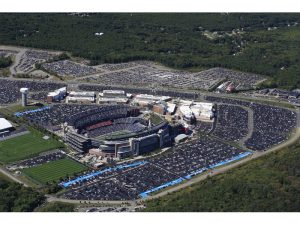 Foxborough has 5 public schools that serve the students of the area from pre-kindergarten up to Grade 12. There are 3 elementary schools, one middle school, and one high school.
The high school offers a number of different sports, such as golf, lacrosse, soccer, wrestling, and indoor track. It is also known for its music program, and regularly places in competitions, particularly in jazz.
Foxborough also has a number of private and charter schools, also ranging from pre-kindergarten up to Grade 12.
Let's Talk Weather
Because it is quite close to the Atlantic Ocean, Foxborough's weather tends to be warmer than other areas that are further away.  Summers can be hot and hazy, and winters can be snowy. Nor'easters are powerful storms that can dump lots of rain or snow, depending when they occur, although they happen most often during the winter. And every so often, places along the eastern seaboard, even as north as Massachusetts and beyond, can see hurricane activity in the late summer and early fall. Hold on to your hats!
The Great Outdoors
Foxborough, along with Wrentham, is proud to have the F. Gilbert Hills State Forest within its boundaries. It is a fantastic place to visit if you love hiking, horseback riding, biking, cross country skiing, or just enjoying nature. There are even some interesting stone structures that some people believe were made by the native Algonquins before settlers arrived in the area.
Commuting
If you prefer an environmentally friendly way of getting around, then Foxborough home buying is the right move. You can catch trains from South Station in Boston or from the T.F. Green Airport station in Warmick, Rhode Island.
When it comes time for special events, use the MBTA commute rail station, known both as Foxboro and Gillette Stadium. Note that it operates only when events are taking place at the stadium.
If you need a car to get to public transportation, you can use the commuter parking lot and shuttle service during weekdays.
And of course, if you like human-powered vehicles, there are plenty of sidewalks for pedestrians, and cyclists and motor vehicles can share the roads.
Safety
In general, if you are looking for a safe, smaller town in the northeast, then you should put Foxborough home buying on your list. Its crime rate is lower than about 32% of all communities in the state, and ranks about average – 13 for every 1000 residents – for all cities and towns regardless of size in the whole United States. When comparing towns of a similar size, Foxborough's crime rate is noticeably lower.
More specifically, its crime rate for violent crimes, such as armed robbery, is just 1 in 391. Foxborough's property crimes tends to be the most common reason for crimes in the town. Be sure to lock your homes, garages, and cars to stay safe.
Anything Else?
Did you now that Foxborough was once the home of the world's largest factory for the production of straw hats? Unfortunately, the factory burnt down in the early 1900s, but Foxborough's post office now stands in its place.