Your Dedham Home Buying Guide
Working in Dedham
When considering Dedham home buying, you most likely want to know about the employment situation. For this town of just over 25,000 residents, it's doing very well. For example, the median household income is a little more than $87,000, which is 23% greater than the average for Massachusetts. The unemployment rate is a mere 3%, and the poverty rate is just 5%, which is an amazing 69% lower than that for the entire country. Maybe there's a good reason why, when Dedham was incorporated in 1636, the townsfolk wanted to name it Contentment!
Home Values and Taxes
Home prices in Dedham are somewhat affordable, relatively speaking. Web site Zillow indicates that the median home value is around $505,000, while the median sale price, as of January 2019, is about $432,000. The average list price is actually a tad higher than that of Boston-Cambridge-Newton! Dedham home buying prices are expected to rise just over than 3.5% over the next year.
The residential tax rate is currently set to $14.15.
School System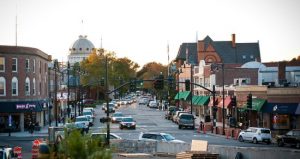 If you have children and want options, then put Dedham home buying towards the top of your list.
There are seven public schools, which includes a pre-school, several elementary schools, plus a high school. The high school is thrilled to offer over 20 varsity sports, plus more than 20 extra-curricular activities to try.
Dedham also boasts a private school that was in the top 100 schools in all of Massachusetts for 2019. No one is too cool for school here! 
Commuting
If you like options, then consider Dedham home buying. You can access commuter rail through the MBTA at the Dedham Corporate Center station. There are also multiple MBTA buses to help get you to where you want to go.
Uber and Lyft also have a presence in Dedham, in case you ever need it.
Dedham also has a look to the future. It is aiming to build and complete the Dedham Heritage rail trail for anyone who wants to travel by bike, or who simply wants to enjoy the great outdoors, along with a little history.
Cost of Living
Another piece of the Dedham home buying puzzle is this: how much does it cost to live here? Well, you do have to pay a little more to live here. In fact the cost of living in Dedham is just over 10% higher than for the rest of the state. Housing, and goods and services account for a good chunk of this number.
Safety
If you want to enjoy the comfort of your own home in a peaceful area, look no further than Dedham. Statistics show that its overall crime rate is 4% lower than that of the state, and a whopping 37% lower than of the United States! However, the property crime is higher when compared to rest of Massachusetts, but still lower than the national average.
Did You Know?
Every town has its own unique aspects, and Dedham home buying is no different. For instance:
·      Dedham is the home of the Fairbanks House, which is the oldest surviving timber-frame house in the country. It has been dated back to 1637.
·      Back in 1639, the first human-constructed canal was created in – you guessed it – Dedham! It connected the Charles River to the Neponset River to provide power to several local mills.