Wellesley Home Buying Guide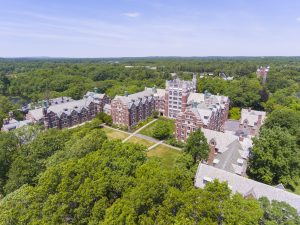 Wellesley Home Buying-The Basics
Originally part of Dedham in the 1630s, and later Dedham, Wellesley is currently part of the greater Boston area. It has about 28,000 folks living here, and with Wellesley home buying, you could make it 28,001! It isn't the largest place, geographically speaking – only about 10.5 square miles, but it is the 7th wealthiest place in the country. Keep reading to find out what Wellesley has to offer.
Home Values and Taxes
Even though it has small town charm, Wellesley home buying has big city prices. Really big. Web site Zillow says that the median value of homes in Wellesley is a whopping $1,302,100! Yup – really big. But here's something to keep in mind – home values have increased by over 2.0% in the past year, and they are expected to continue to rise more than 2.5% over the next year. That means a steady value for your dollars.
So what about property taxes? They are actually pretty low considering – $11.57 per thousand.
Education 
Education and Wellesley go hand in hand.
Fun fact: Wellesley apparently has the second largest concentration of people who have advanced degrees in the United States.
Why is this? One reason could be the public education system. There is a preschool, seven elementary schools, one middle school, and the high school. In 2007, the high school was ranked as being the 70th best high school in the entire nation! In general, all schools in this area regularly earn scores higher than the average of the state.
If you want something other than public education, you can send your little ones to the private elementary school, the private Catholic school, and a preparatory school for girls, among other options.
Wellesley offers post-secondary education options too. There is the women's liberal arts college, aptly named Wellesley College, as well as Babson, a business college, and the MassBay Community College.
Commuting
Because it is so close to Boston, you know that Wellesley has options when it comes to getting around.
Car drivers, you can take the I-95, or MA Routes 128, 16, 135, or 9.
In terms of public transportation, did you know that Wellesley has had a rail service to Boston since…1833? They were definitely ahead their time! The MBTA has multiple trains that run frequently to and from different locales in Wellesley. There is also a bus service for the general public, plus several that are for the elderly and people with mobility issues.
And of course, there are plenty of cycling and walking options – just let your feet guide you along!
Cool Wellesley
There are some really neat things about Wellesley!
The buildings in its historic district, comprised of Cottage Street and its nearby alleys, were built around the 1860s.
We don't need no stinkin' garbage! Did you know that there is no residential trash pickup in Wellesley? It's true! Instead, folks take their own waste to the local Recycling and Disposal Facility. Instead of chucking books, you place them on the available shelves so that other people can enjoy.
Wellesley is one of the few places in the state that has a municipal light plant. By paying a small fee, residents can buy electricity that is generated by wind power. And what's really neat is that this program is actually popular in Wellesley.
Safety
If you are wondering about your safety when thinking about Wellesley home buying, there's some good news for you! Wellesley is one of the safer places among communities regardless of size – a whopping 79% lower in fact! Better yet, Wellesley has been ranked within the top 100 safest places in the entire country.
Even though you are more likely to be a victim of property crimes, such as arson and vehicle theft, your chances of that happening are still really low. As always, be vigilant to keep this statistic as low as possible.
See What MBA Mortgage Has to Offer
Are you interested with what you can get via Wellesley home buying? Perhaps you already have your eye on just the perfect spot? No matter where you are in the home buying process, MBA Mortgage can help. Whether you want a conventional mortgage, renovation options, or just a pre-approval, our experienced staff can guide you towards what you need, right when you need it. Make home ownership happen!