Strong 2021 Housing Predictions Don't Make You Invincible
We've based our 2021 housing market predictions on top-level real estate and economic forecasts, and signs point to a continually stable housing market.
The reality is, plans have been put in place through forbearance to ensure history doesn't repeat itself. So far, one of the few bright spots amid this pandemic has been the continued (and surprising) strength of the housing market. Home values are stable, interest rates are low, and new buyers are plentiful.
Yet, if you're a homeowner who's concerned about foreclosure in 2021, keep reading for expert insights into what you should know about the housing market.
A strong market doesn't impact everyone
It's unrealistic to assume that just because the housing market continues to be strong, every homeowner must be fine. Individual life circumstances can still cause hardship for many. There are various reasons why some homeowners could potentially face a foreclosure, whether it be a job loss or a medical emergency.
Even though our 2021 housing market predictions don't call for a foreclosure crisis, there are things you can do to buffer against potential hardship. In fact, there's one major thing you can do:
Request a mortgage forbearance. This year, homeowners can request 180 days of mortgage relief through forbearance.
Upon expiration of that timeframe, they're also entitled to request 180 additional days, bringing the total to 360 days of deferred payment eligibility. As forbearance expires, homeowners should stay in touch with their lender because creating a deferred payments plan is a critical next step to avoiding foreclosure.
There are multiple options for homeowners to pursue at this point, and with the right planning and communication with the lender, foreclosure doesn't have to be one of them.
Do I have to repay any deferred payments?
Many homeowners are concerned that they'll have to pay the deferred payments back in a lump sum payment at the end of forbearance.
Thankfully, that's not the case. As Fannie Mae correctly explains:
"You don't have to repay the forbearance amount all at once upon completion of your forbearance plan…Here's the important thing to remember: If you receive a forbearance plan, you will have options when it comes to repaying the missed amount. You don't have to pay the forbearance amount at once unless you can do so."
Other things to note
When looking at the percentage of people in forbearance, we see steady declines throughout the year. That's good news for any 2021 housing market predictions, as hopefully that downward pattern will continue.
Fewer people than initially expected are still in forbearance, so the number of homeowners who will need to work out alternative payment options is declining. This means there are fewer and fewer homeowners at risk of foreclosure, and many who initially applied for forbearance didn't end up needing it.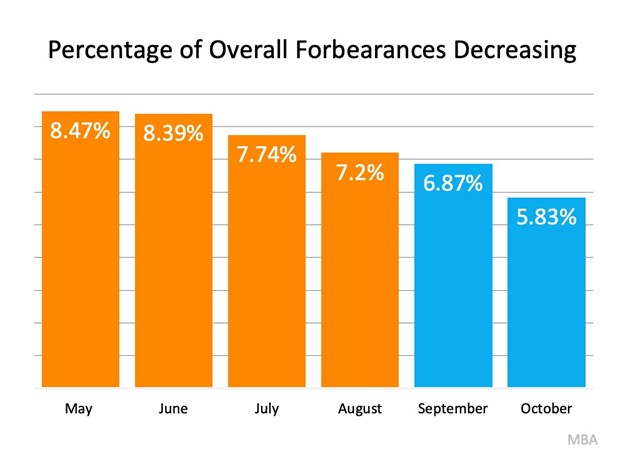 Mike Fratantoni, Senior Vice President and Chief Economist at the Mortgage Bankers Association, further explains this good news:
"Nearly two-thirds of borrowers who exited forbearance remained current on their payments, repaid their forborne payments, or moved into a payment deferral plan. All of these borrowers have been able to resume – or continue – their pre-pandemic monthly payments."
There are other options
For those who are still in forbearance and unable to make their payments, foreclosure isn't the only option left. In their Homeowner Equity Insights Report, CoreLogic shares:
"In the second quarter of 2020, the average homeowner gained approximately $9,800 in equity during the past year."
Many homeowners have enough equity in their homes today to sell their houses instead of foreclosing. Selling and protecting the overall financial investment may be a very solid option for many homeowners.
As Ivy Zelman, Founder of Zelman & Associates mentioned in a recent podcast:
"The likelihood of us having a foreclosure crisis again is about zero percent."
That's good news for 2021 housing market predictions and homeowners overall.
Bottom Line
If you're currently in forbearance or think you should be because you're concerned about being able to make your mortgage payments, reach out to us to discuss your options.
We help people at all stages of homeownership take steps that are best for them, including those who may be struggling. While the 2021 housing market predictions are positive, we also recognize that every individual homeowner is different.
Contact us today, and we'll look at your situation.