Home Maintenance Checklist for New Homeowners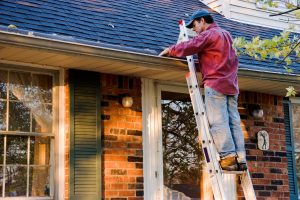 Bought your very first home? Not quite sure how to take care of it? Use this handy home maintenance checklist to maintain and protect your biggest financial asset – your home.
Spring
Spring cleanup: Rake leftover leaves, pick up debris left from the winter, and lay down mulch in gardens.
Goodbye snow blower, hello lawn mower: Clean your snowblower parts, drain fuel, and store. With your lawn mower, check parts, clean the motor, and get fuel.
Aim high: Check your roof and shingles for any damage. Examine gutters for debris and make sure that all parts are still attached and in good condition.
Walkabout: Look at walkways, stairs, and decks. Do they need repairs, updating, or paint?
All systems go: Test all household systems. This includes HVAC, pool pumps, ceiling fans, and your BBQ!
Summer
Exterior: Clean those windows, add a lick of paint where needed, and replace any smaller items, such as your house number or outdoor lights.
Pool time: Open your pool! Clean it, adjust chemicals, and tighten ladders and diving boards.
Plants ahoy: Check that any rain barrels, composters, and sprinklers are working. Start removing pesky weeds. Trim tree branches.
Stop bugging me: Wasps, ants, rodents, and other pests can invade. Look for signs of activity in your garden and around your home. Seal any holes. Call a pest control company for more urgent situations.
Autumn
Good grounds keeping: Rake those leaves, plant fall flowers, and collect outdoor debris.
More gutter time: Yes, it's time again to clear those gutters and to make sure they are still in good order.
Lawnmower and snowblower – in reverse: This time, clean the parts of your lawnmower, empty its fuel, and store. Then check your snowblower has fuel and is ready for the first snowfall.
Furnace frenzy: Before it gets too cold, check that your furnace still operates. Replace filters. Schedule a maintenance service call.
Winter
The ice dam cometh: Ice and snow can build up on house, garage, and shed roofs. When ice and snow start to accumulate, make sure you dislodge them to prevent a mini avalanche.
Winter supplies: Stock up on salt, dirt, and other winter supplies you need to prevent slipping and to add traction where needed.
Catch drafts: Who wants to be cold indoors during the winter? No one! If you feel drafts, add or replace weather stripping around doors and windows to keep toasty warm.
Pipe dreams: Burst pipes can really put a damper on things. Shut off outside water valves and insulate pipes.